KHAN ACADEMY
Khan Academy is a non-profit educational organization founded in 2006 by Salman Khan, a graduate of MIT and Harvard Business School. With the mission of "providing high-quality education for everyone everywhere," the website provides free online collections of about 3200 micro lectures via video tutorials stored on YouTube that teach mathematics, history, finance, physics, biology, chemistry, astronomy, cosmology , computer science, health, organic chemistry, economics, art history, and American citizenship education.
EDX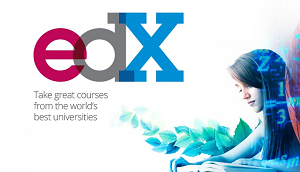 edX is a large-scale provider of open online courses. It hosts online university level courses in a variety of scientific disciplines for student bodies throughout the world, including several courses without cost. It also conducts research in learning based on how people use the platform.
ALINSON
Alinson is a free online education platform that mostly focuses on workplace-based skills. Alison's income is generated from advertising and sales certificates. According to The Economist, companies are trying to direct education through advertising by means of television and radio. Through the online pay-per-click ad revenue model, Alison has established a business model that can provide learning materials without cost to students.
Alison currently offers more than a thousand courses at the level of certificates, diplomas and learning pathways in nine core subject categories. Certificate level courses require two to three hours of study while more rigorous diploma courses require ten to fifteen hours of study. There is no time limit for completing the course.
BRAINLY
Brainly is a subscription service and educational technology company based in New York, United States. It operates a group of social learning networks for students and educators. Brainly advocates to share and explore knowledge in a collaborative manner, and engaging in peer-to-peer educational assistance. The network has elements of gamification in the form of motivational points and ranks, and encourages users to engage in the online community by asking questions and answering those of other students.
UDEMY
Udemy is one of the providers of free courses whose majority of languages ​​are English. But most courses are paid, not least Udemy gives free courses with good quality and no less good than paid ones.
RUANG GURU
Ruangguru is the largest and most comprehensive technology company in Indonesia that focuses on education-based services and has more than 6 million users and has managed more than 150,000 teachers offering services in more than 100 subject areas. Ruangguru is committed to being a partner for local governments to provide quality education through the Learning Management System.
COURSERA
Coursera is a startup company that provides platforms and content for opencourse or other online lecture terms. Coursera uses lecture methods that tutors come from a variety of well-known universities in America, such as Stanford University, University of Michigan, University of Pennsylvania, etc.
COZORA
Cozora is an educational technology company from Indonesia which was released in January 2016. There are two services provided by Cozora. First is Cozora Startup Lab. Well, this one service is suitable for you who want to make a startup because here you can take part in a series of online classes about startup. The second service is Cozora Live. The service provided on Cozora Live is a sharing facility through live cast technology or live streaming. This service can be used by individuals, organizations, communities or companies.
CANVA DESIGN SCHOOL
There is still one site that studies online graphic design that you can visit, namely Canva. Canva Design School already has more than 9800 students spread across various countries. Canva is an online learning site that provides graphic design courses and interactive workshops. Online learning through Canva, you will also get a module. For those of you who are still unfamiliar with design, this website will help your acquaintance process with graphic design to make it more smooth. The good news is that Canva already has an official Indonesian version of the site too.
SQULINE
Unlike some of the sites discussed earlier, SquLine focuses on language material, namely Japanese, Mandarin, and English. All the info you need is neatly available on the Squline page, from prices to options for corporate programs. In the digital age and advanced technology like this, surely foreign language skills will also support the performance of employees in the office, SquLine can be an option for your team who want to learn a foreign language.